Your ads should capture the user's attention and convince them to click on your ad, rather than on the many other results that Google shows them.
If your ads are not compelling, they will get very few clicks (low CTR). This will lower your Quality Score and worsen your results (less impressions and conversions, probably higher costs…)
So here are some recommendations to improve your ads:
7.1. Look at the competition
The main reason why users don't click on your ad is because they see another result that is more "attractive" (it can be another ad or an organic result).
So it makes a lot of sense to start by analyzing what you competing against.
Start by looking at the other ads in the most important searches for your organization and try to overcome them.
You can search on Google to see the ads, but it's better to use the "Ad Preview" tool included in Google Ads. This way, you can easily see which ads are shown for different locations, languages ​​and devices.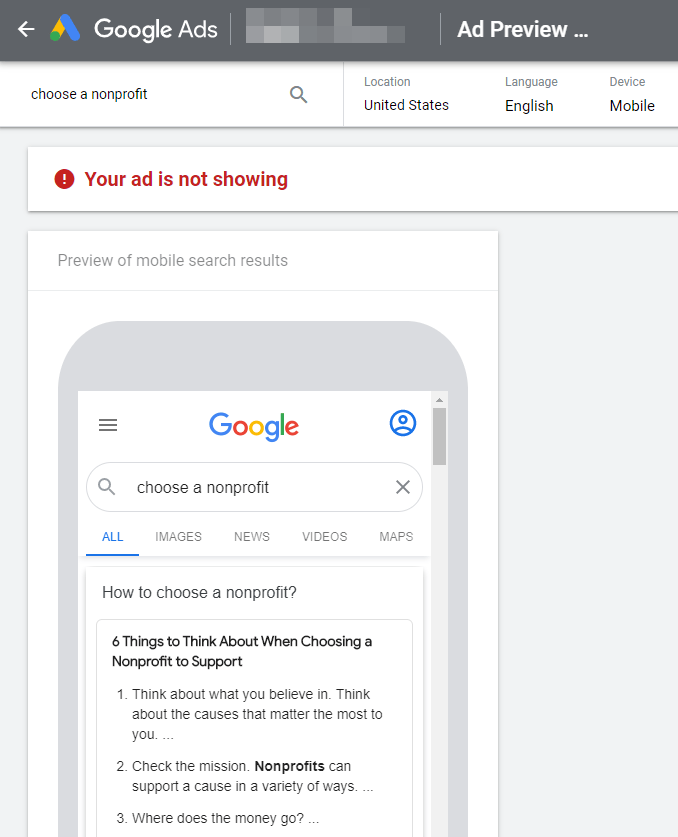 You don't always have to be very innovative to have great results, it may be enough to have an ad that is a little more convincing or trustworthy than the rest.
If you compete with organizations with a lot of resources, they have probably already tried a lot of different ads. They have reached the conclusion that their current ad is the one that works best for that keyword, so the most efficient tactic for you can be to start with a similar ad (they have already verified it works) with a little twist. No need to reinvent the wheel.
If you've already had campaigns running for a long time, another helpful resource is the "Auction insights" report. You can check it within any ad group.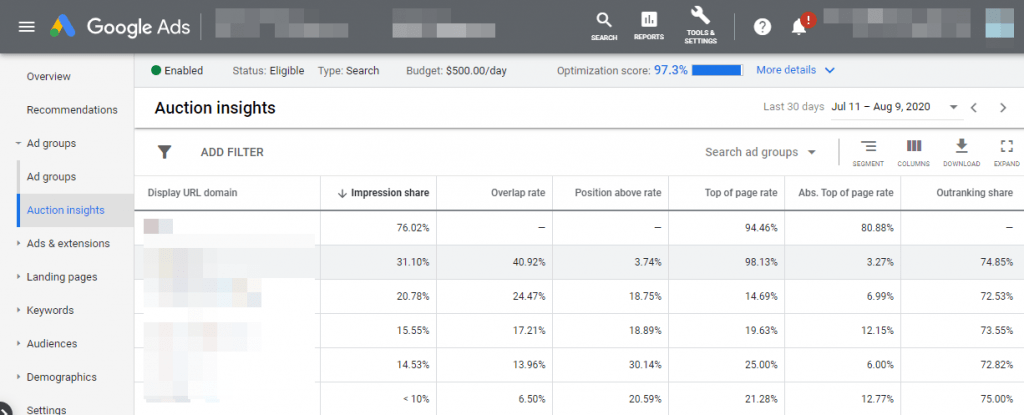 The competitors who have the most impressions and who appear above you more frequently will be the ones you should analyze in more depth.
There are also specific tools to "spy" at the ads that your competitors are showing for different keywords (Spyfu, iSpionage, SEMRush…), but they are not really necessary.
7.2. Try different approaches in your ads
It's recommended to test 3 or 4 ads simultaneously for each ad group.
We recommend that you follow a continuous process of improvement. Pause the ads that don't work and keep adding new ads about every 2 months (building on what you've learned works best in previous ads and testing new concepts).
Most ads are boring and impersonal. You have to make your ads stand out above the rest and connect with the user.
Some concepts that you can try in your ads:
Show data (statistics of the problem, results, organization data…)
Highlight benefits for the user (what solutions do you provide, how is it different from what other organizations or websites offer…)
Base the ad on emotions (maybe even tell a short story)
Try different calls to action ("help us","donate","collaborate","join","sign the petition"…)
Mention in the ad the keywords that the user has searched for (which is the general recommendation) or try a more creative/original ad.
Introduce elements of urgency (for example, time left for an event, limited tickets/places…)
Introduce local elements (cite the area or country you are targeting)
Introduce trust elements (testimonials, awards, accreditations…)
Try different text formats (capitalized case, questions, exclamations…)
Try mentioning a recommended donation amount if you are asking for donations. Maybe try ads with different amounts and see which one increases total donations.
For example, in the following Charity:Water ad they mix inspiring phrases ("make history with us", "we can end the water crisis in our lifetime"…) and data to present their organization and increase trust ("Every Project Proved", "View our Financials"…):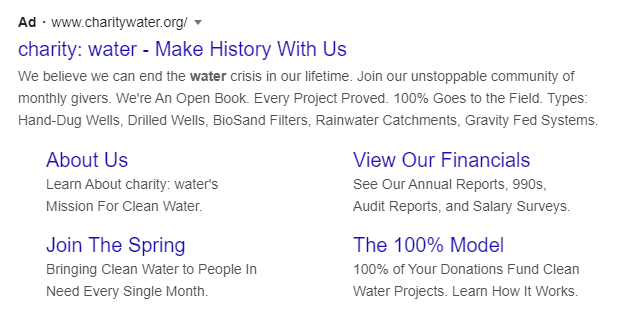 You should also try the 2 types of search ads offered: Normal text ads and Responsive search ads.
Normal ads are the simplest, while responsive ones are a bit more complex (you put different phrases, Google's automatic system tries different combinations of those phrases and shows more frequently the ones that give better results).
This video explains quite well how to create responsive ads:
7.3. Try different extensions
Google Ad Grants requires that you have at least 2 extensions for your ads. The extensions help to get more clicks and CTR (which also helps the Quality Score). They also improve the user experience if they are correctly used.
We recommend going beyond the minimum and trying many different extensions to see which ones get the most CTRs and conversions.
Main types of extensions:
Sitelink extension (if you want to give users options to visit other pages, not only the main page of the ad). For example, you link to pages about your organization, articles related to the search, direct links to donation or volunteering pages…
Callout extension (if everything you want to explain to the user does not fit in the ad)
Call extension (if you want to boost calls)
Location extension (f you want more visits to your premises or offices)
For example, at Operation Smile they make use of site links so that their ad stands out more and show alternative pages. And at the same time they show their phone:

To learn more about the different types of extensions, check this guide.