As we indicated at the beginning of this course, Google Ad Grants accounts require recurring analysis and optimization work. It's not enough to set up the campaigns and forget about them.
Below we recommend a revision plan, indicating different tasks and their recommended frequency/schedule (every week, month or semester).
It's the minimum we recommend. There are many other tasks that may be interesting to perform and some accounts may require more frequent reviews than indicated here.
12.1. Weekly review
a) Check notifications
Just log into your account and look at the notifications section (click on the bell icon in the upper right).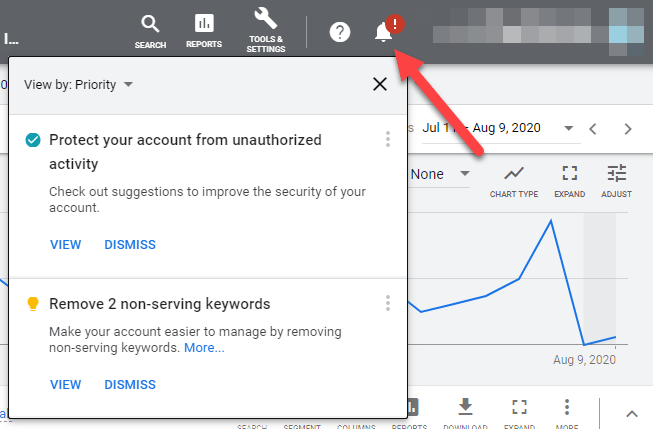 Not all notifications will be important, but it's a quick way to discover problems, opportunities and news that can affect your account (regarding results, security and other issues).
You should also activate email notifications, so that you don't miss important notifications.
To activate those email notifications, you go to the top menu of "TOOLS AND SETTINGS" > "SETUP" section> "Preferences" > "NOTIFICATIONS" tab: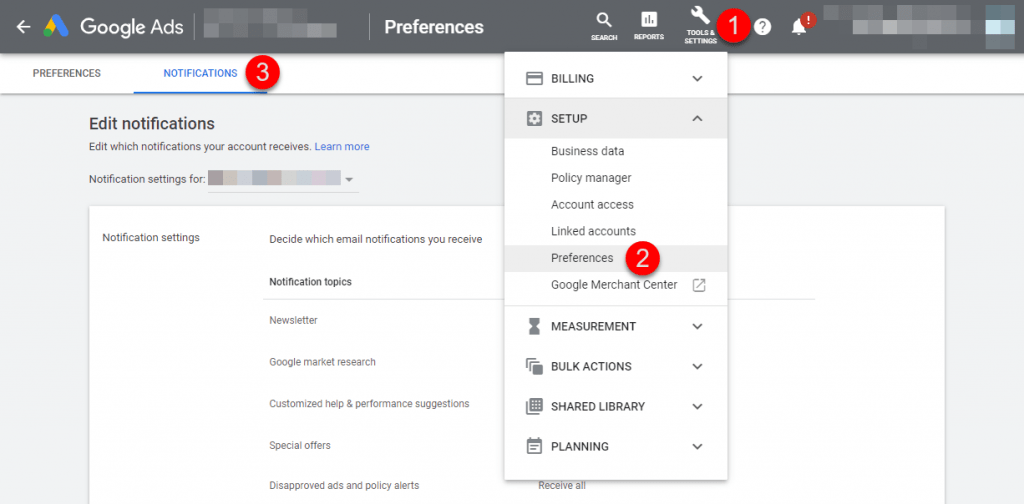 b) Check the "Overview" dashboard
Dashboards are interesting to get a quick idea of ​​what is happening in the account.
Google Ads has a main dashboard called "Overview" that shows you the main metrics, significant changes in the last few days and some automatic recommendations.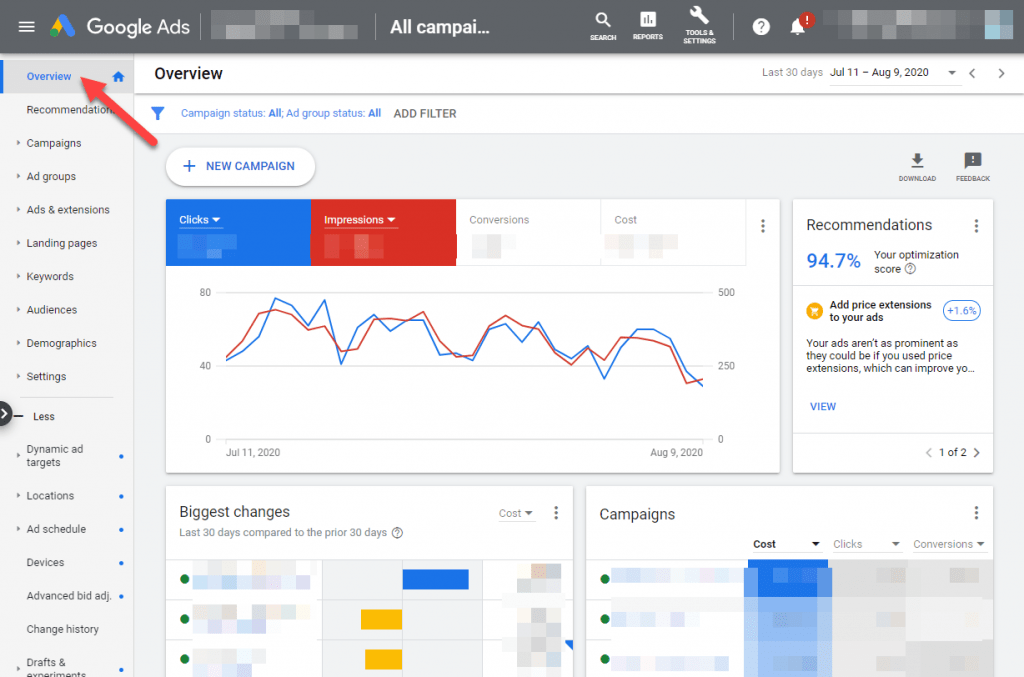 c) Create and check custom dashboards
Another good option (complementary to the default "Overview" dashboard) is to create custom dashboards in Google Analytics and/or Google Data Studio to see at a glance the data that interests you the most.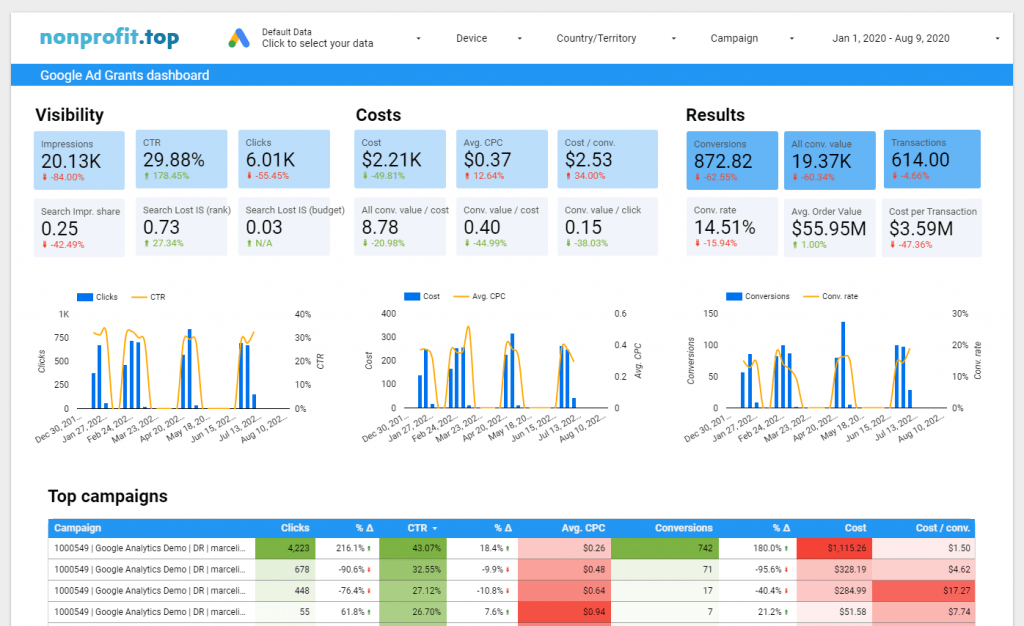 You should not always follow the recommendations in this report. It often recommends things that will give bad results or that don't make sense for your goals. But it's a simple and fast way to detect possible improvements thanks to Google's artificial intelligence.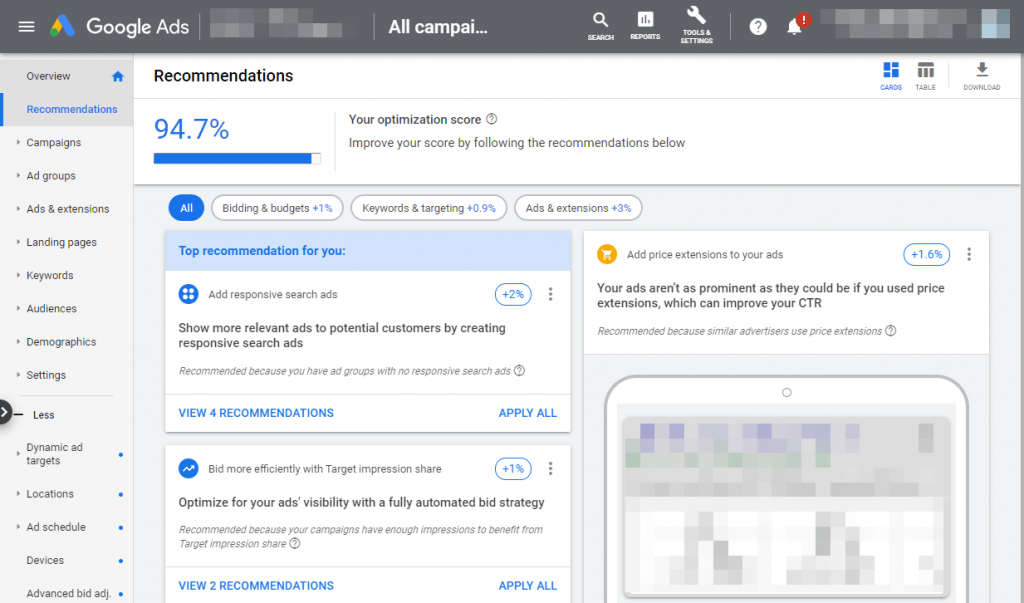 e) Check the "Policy Manager" report
You can find it in the top menu of "TOOLS AND SETTINGS" > section "SETUP"> "Policy manager".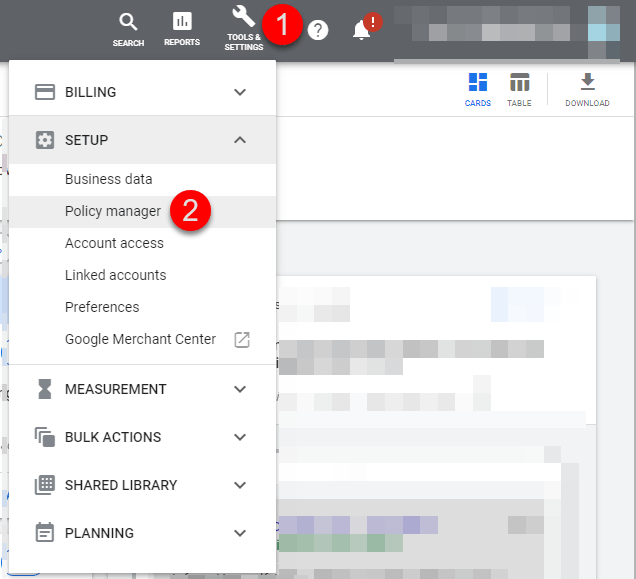 You will see ads that have not been approved and other problems related to Google Ads policies: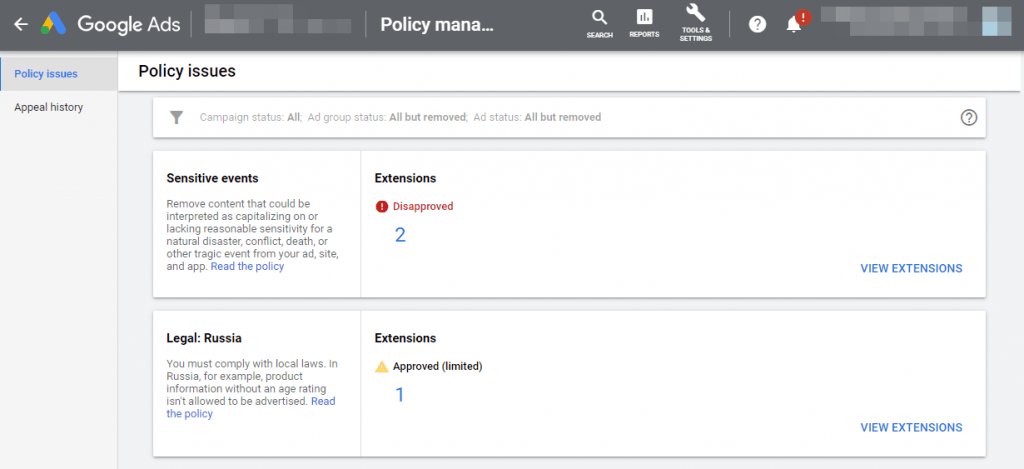 12.2. Monthly review
a) Check the "Search terms" report
There can be a big difference between the searches where do you want to show your ads and the searches your ads are actually showing on. Especially if you are using broad match and don't have many negative keywords added.
The Search terms report serves 2 main purposes:
Detect searches that don't interest us and "cut" those searches to avoid wasting money or lowering our average CTR. It can be corrected by adding negative keywords and/or changing the match type of the keyword that has activated it.
Detect searches that interest us a lot and put more resources on them. They can be enhanced by adding those keywords using exact or phrase match, bidding more on them and/or creating specific ad groups for them.
For example, we may have the keyword "online donation" activated (with broad match) to capture donations. We enter the report and see that it's being activated for the following searches:
"request donation online". We are not interested in this search (we want people who want to give donations, not request them), so we would add "request" as a negative word. We could also change "online donation" to exact match, but we would miss many searches that may interest us.
"donate online environmental nonprofit". If we are not an environmental nonprofit, we are not interested in that search, so we should add "environment"and perhaps other similar synonyms/variants as negative words. On the other hand, it gives us new ideas: We may be interested in activating our ads for "donate nonprofit" (removing the "online" part) and "cultural nonprofit donation" (if we are a cultural nonprofit).
To review this, enter the "Search Terms" report (within the "Keywords" section) and sort by impressions, so you can see first the exact searches where your ads are showing most frequently.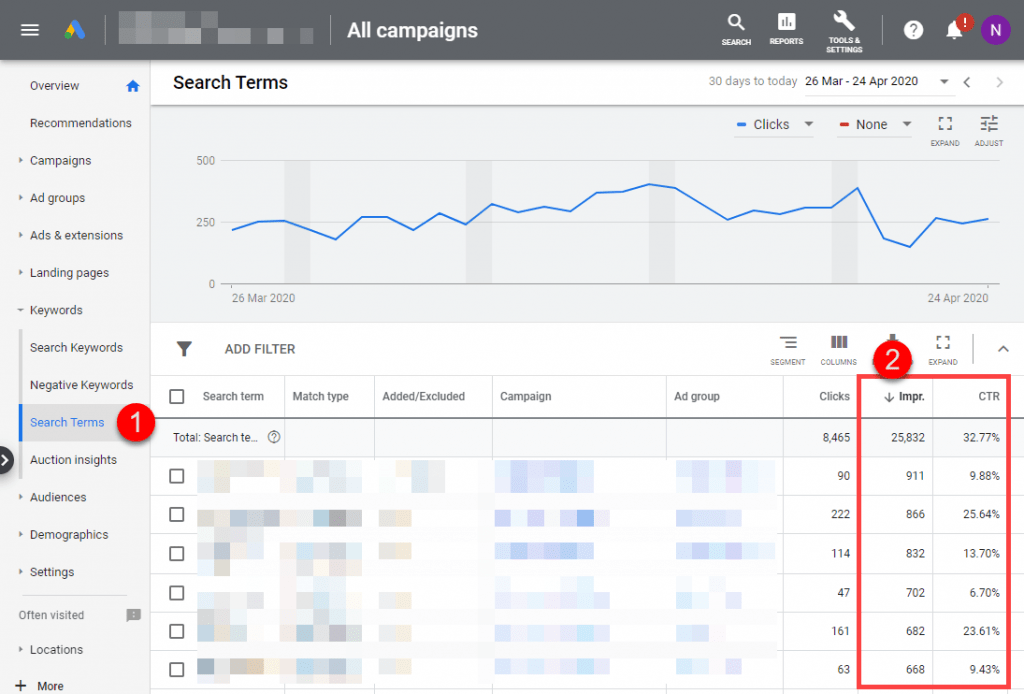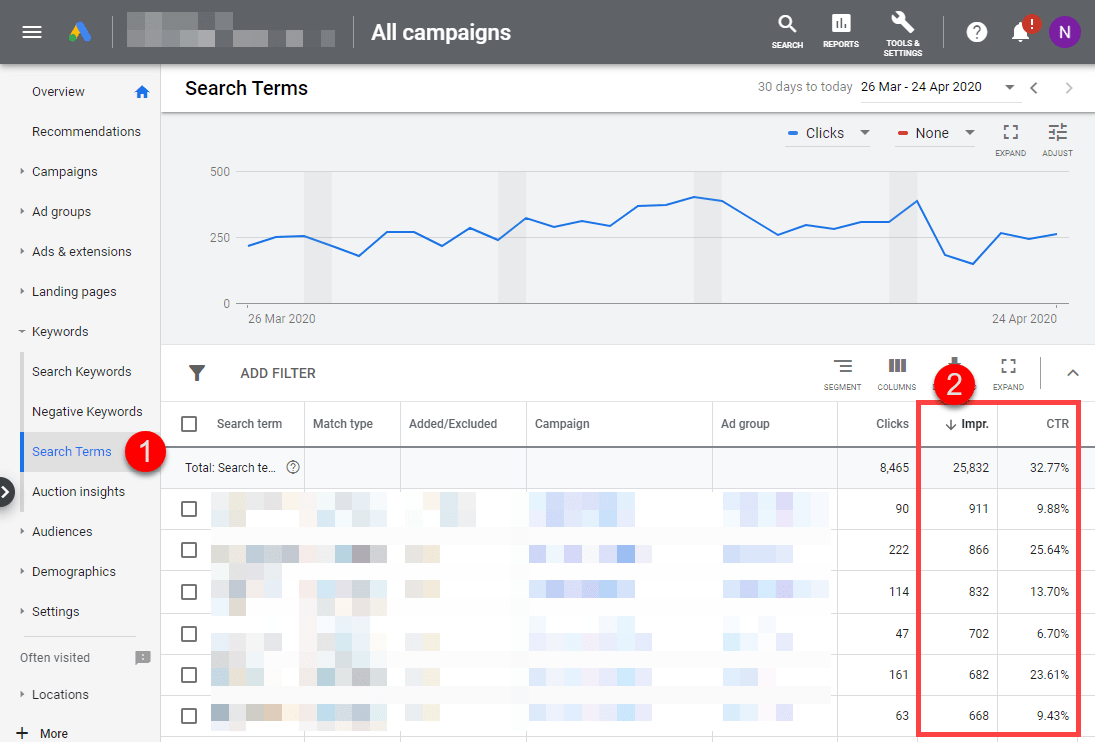 b) Check keywords with low CTR and/or low conversion rate
It's similar to the previous point, but here we are looking at keywords instead of search terms (as we have learned above, there can be a lot of difference between those two things).
It's best to look at a report with the keywords sorted by impressions: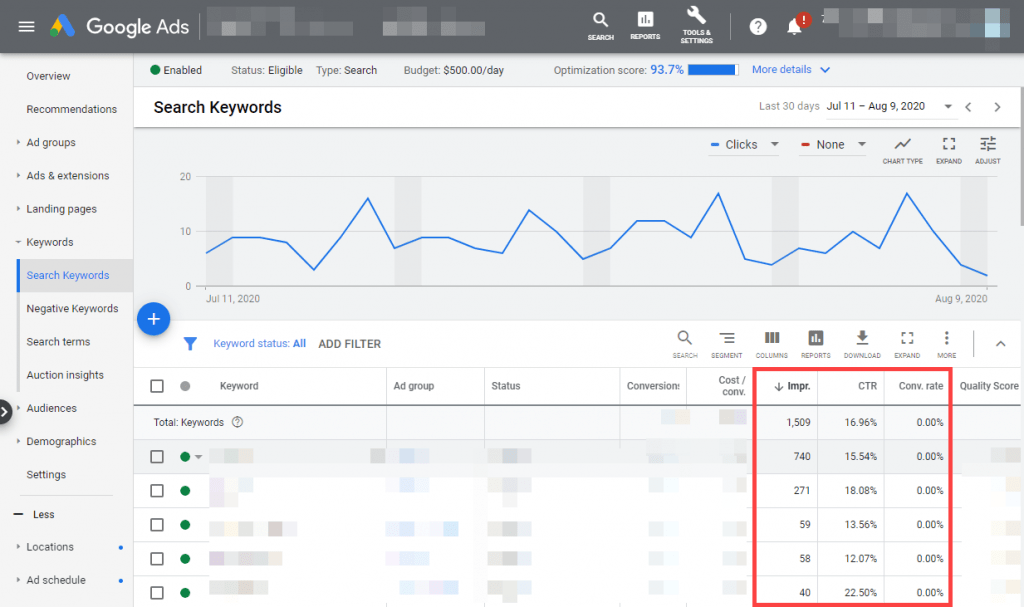 The general recommendations would be:
a) If the keyword is not getting good CTR or conversions, in general it's best to pause it. But if that word has a lot of potential or importance to your organization, then you should create a new ad group just for that keyword. This way we can create new specific ads for that keyword and perhaps also a new specific landing page.
b) If the keyword is getting conversions but has a low CTR (<5%), you should check the ads of that ad group. If that keyword is in a big ad group (many keywords included in that same ad group), break it down into several different ad groups (divide it into more specific topics, to create more specific ads). Then you should try 2 or 3 new ads for each ad group (and maybe also specific extensions for each ad group).
c) If the keyword is getting high CTR but does not bring conversions, you should check the landing page that shows up for that keyword. If many users are coming to that landing page and they don't convert, something is wrong on that page. They can be many things: The page does not match what the ad "promises", it does not have a good design, it takes a long time to load, it does not adapt well to mobile devices, it's not well optimized to build trust and achieve conversions…
c) Detect and enhance keywords with many conversions
You want to see which keywords are converting well and add similar words that could also give good results. The goal is to take further advantage of that "gold mine" you have found.
You can see the keywords with more conversions in the same keyword report discussed in the previous section, but this time sorting by the "Conv. rate" metric.
You can start applying filters so that only the keywords with more than 50 clicks or 1000 impressions in the last month are shown (to ignore keywords that don't have enough visits or searches to bring a lot of conversions).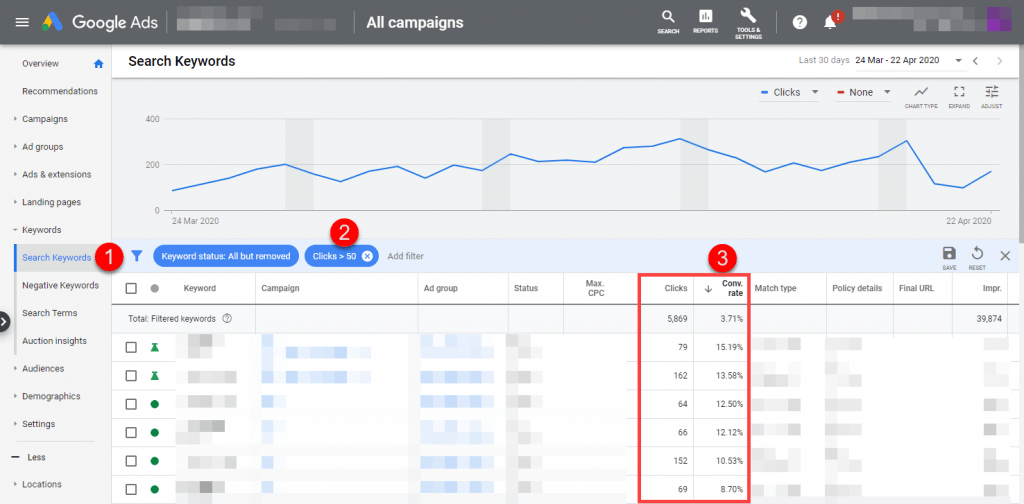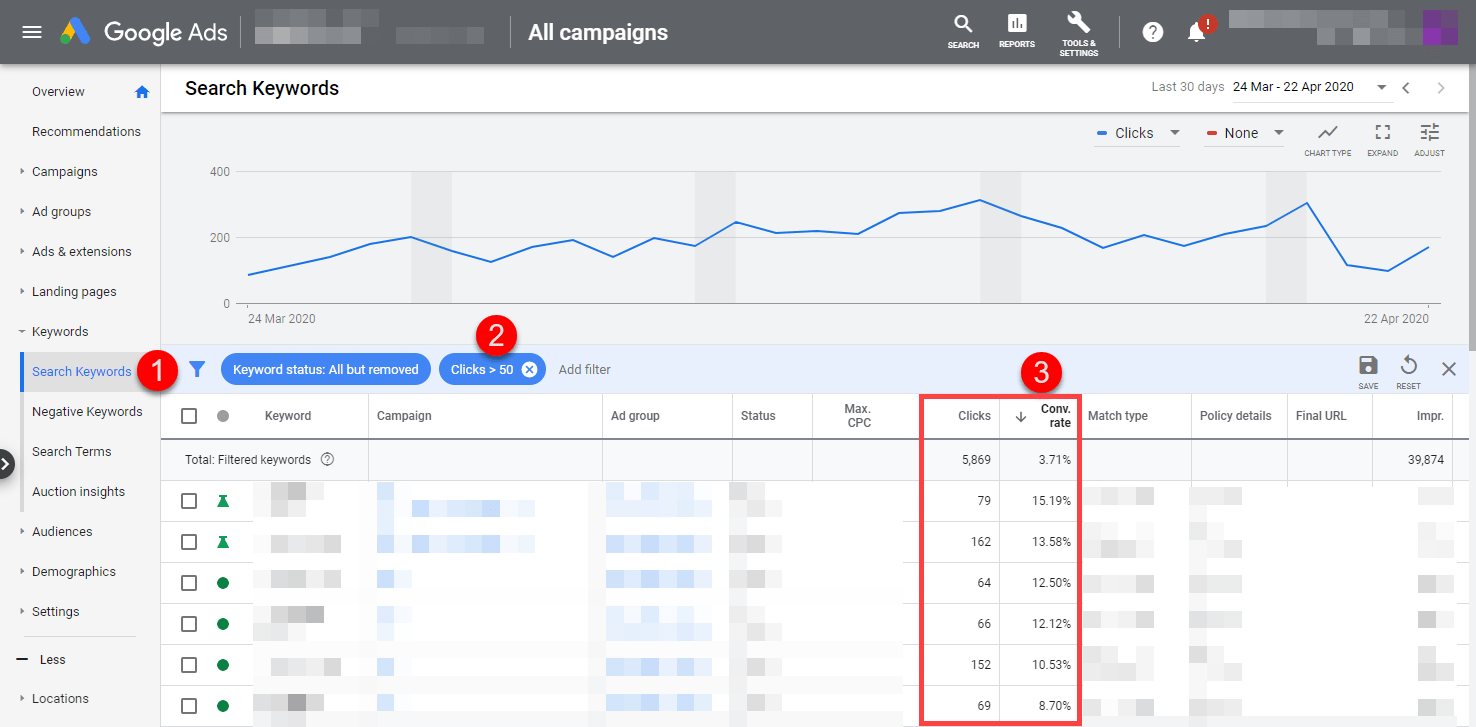 We want to multiply the impact of keywords that bring a high conversion rate. This can be done in various ways:
Find synonyms and also add them to your keyword lists.
Create an ad group for each of these keywords that convert well, with specific ads for each word. This will further increase the Quality Score, clicks and conversions of those words.
Try the same type of texts/arguments that you use in the ads of those keywords for other ad groups (reuse in other campaigns what works).
Make sure the campaigns where those keywords are included are never short on budget. If necessary, create new campaigns only for those keywords (so they are not sharing budget with "mediocre" keywords).
d) Check landing pages with many visits and few conversions
If a page receives many clicks (visitors) but brings very few conversions (very few users complete the desired action), something is wrong there.
It may be that the content of the page does not match what is said in the ad, the desired conversion does not match what the user was looking for, the page takes a long time to load, it does not display well on mobile devices, don't highlight enough the buttons or forms that lead to the conversion…
To see which landing pages are not giving good results, you can go to the "Landing pages" report, then add the "Conv. rate" column (it does not show by default in this report) and focus on the ones with a lot of clicks but low conversion rate.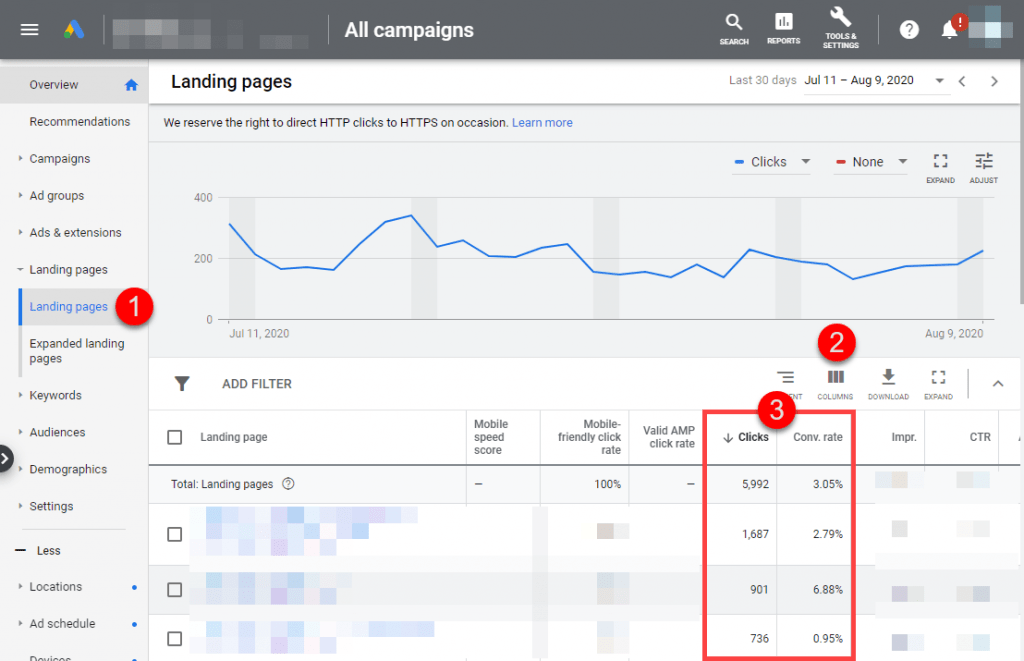 e) Try new ads and extensions
You should always have at least 3 active ads in each ad group, as well as several extensions of different types. But it's not enough to configure that once and forget about it.
In order to have the best possible results, you should always be testing new versions of the ads.
If you use the "Smart bidding" options and the "Optimize" ad rotation, which is our general recommendation, Google will automatically display the ads that work best more frequently. But what Google doesn't do automatically is add new ads to try.
You should pause the ads that are clearly giving bad results (basically CTR lower than others, but it's also worth looking at the conversion rate) and create new ads to replace them.
If the ads in question receive a high volume of impressions, you can be renewing ads even once a month. If they are ads with less volume, it should be done every 2 or 3 months. We want agility, but there is no point in removing an ad if it hasn't yet accumulated enough data to make a reliable decision. Google is probably still testing it in its ad rotation.
It's interesting to have a document in which we write down what has given good and bad results in the past, to apply what we have learned in future ads and also on other places. You can reuse the phrases that have worked best (on your website, emails, posts and ads on social media…)
12.3. Bi-annual review
a) Check the settings of campaign and ad groups
Try to improve your ad groups (fewer keywords per group, even specific ad groups for each top keyword).
Verify that all locations, languages, devices are well selected.
Verify that conversions are configured correctly (no errors, no conversions that are no longer relevant to the organization, enough monthly volume of conversions, realistic assigned value…).
b) Check the competition
Check the "Auction insights" report (see which competitors are getting better positions and/or more impressions than you)
View competing ads (by searching Google directly and/or using the "Ad Preview" tool inside Google Ads). Evaluate whether your ads are more or less attractive than the ads of other advertisers. Maybe try in your ads concepts they use or something completely different.
Check that your ads are showing OK (sometimes they don't show as we expect due to a bad configuration of responsive ads, extensions, Dynamic Keyword Insertion…)
c) Check your landing pages
Check that they all load correctly (no 404 errors, forms sending OK…).
Measure the loading time (there are tools to perform speed tests such as GTmetrix. Google Analytics can provide loading time from real visitors).
Check that every landing page has at least one call to action.
Optimize content and design (perhaps starting with the pages that attract more visits).
Consider creating new landing pages.
d) Review trends and think about possible expansions
Check the evolution of key metrics (conversions, clicks, cost, Quality Score, CTR…) in recent months.
Check trend changes in the stats provided by Google Analytics and Google Trends.
Perform a general analysis of your Google Analytics data. Try to apply what works best in other areas to Google Ads (for example, reuse pages or arguments that are giving excellent results for organic traffic).
Plan new campaigns to launch in the following months (to promote new programs or services, new events, etc.).
Think of new keywords. Use the Keyword Planner inside Google Ads and perhaps also other external tools (e.g., Semrush).