Good results can be achieved using only the "internal tools" provided by Google Ads, but there are many other tools that can help you improve results and save time.
Keyword research
One of the keys to achieving great results (many clicks and conversions) is to use keywords with a lot of search volume and/or many different keywords.
If you use a small list of keywords with low volume, you will probably get small results.
The tool that almost everyone uses is the Keyword Planner. It is included within the Google Ads dashboard, gives quite reliable results (data from Google itself) and is free.
It's also helpful to search directly on Google (like a regular user) and see what suggestions it shows you as you type, what words are mentioned in the results, and what other related searches Google suggests at the end.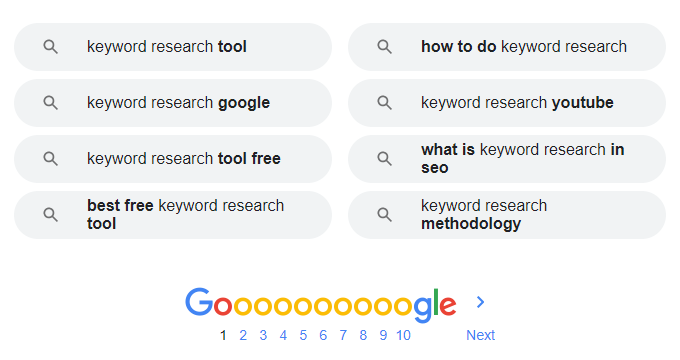 For more keyword ideas, you can choose between dozens of keyword research tools (most are focused on SEO, but can also be used for Google Ads).
Here are some of the best ones:
The list of tools that are useful for certain cases could go on: Google Search Console, Google Trends, Keywords Everywhere, Answer The Public…
Competitor research
Using really good ads is important to get good results, especially for keywords/topics with a lot of competitors.
One of the easiest ways to create good ads is to look at what the competition is saying (other ads and organic results), to get some ideas or maybe differentiate from them using very different concepts.
You can see the ads shown by competitors in any area or country using the preview tool offered by Google Ads.
You can also "spy" on all ads used by certain competitors using specific tools such as Spyfu or iSpionage, although the results are not very reliable in general.
There are also big SEO tools like Semrush and Serpstat that have reports to check competitor ads.
Another complementary option is to study which content has achieved more impact from other websites or organizations (more shares on social networks, more backlinks…) with tools such as Buzzsumo. It can help you discover topics that generate a lot of interest from the public. They could be interesting topics for your advertising campaigns.
Ads creation
To get more ideas for ads or just write a lot of ads quickly, you can use Artificial Intelligence tools like Copy.ai or Writesonic. There are many others: Headlime, Anyword, Rytr…
You simply have to enter some basic data of what you want to advertise and they give you a lot of possible texts for the ads, obtained through an artificial intelligence system (GPT-3) that has been built by reviewing millions of online texts.
On the other hand, to avoid errors in the ads you could check your texts using grammar and writing tools such as Grammarly and Hemingway (although they are designed to review longer texts, not a short ads).
Landing page creation
There is no point in configuring very good ad campaigns if they send the users to a bad landing page (with mediocre design, weak contents, slow loading…) and they decide to leave quickly.
The simplest and cheapest way to create landing pages is usually to use your website system. It is usually a CMS like WordPress, Drupal, Squarespace, Wix…
But sometimes you can achieve better results with a specific tool designed to create good landing pages such as Unbounce, Instapage, Leadpages…
They are useful especially if the CMS you use has very limited customization options or if you don't have good design skills.
These tools offer templates with a professional design, easy customization and optimized to achieve good results (maximize conversions).
For certain landing pages, it may be convenient to use specialized tools for certain objectives, such as:
Finally, I want to mention something that many people overlook: It is not only important to optimize the landing, but everything that happens afterward. For example, the page you show users after completing a form, purchase, or donation.
That "thank you page" is a great opportunity to connect even more with those users and perhaps get additional conversions (show them other initiatives of your organization, invite them to follow you on social media, promote a campaign or video, etc.).
If on that page you only say "thank you very much", it is an opportunity that you are missing.
To create a good "thank you page" you don't need a special tool, you can use the same tool you used to create the landing.
A/B Testing
Sometimes we have doubts about whether the landing we have created could be improved and get more conversions.
There are tools to perform A/B tests, which allow you to test different versions of the same page and verify in a "scientific" way which of the versions gives better results.
One of the best A/B testing tools is Google Optimize, which has a fairly generous free plan, is quite easy to use (no coding/programming necessary), and integrates perfectly with Google Analytics.
There are many others, such as Optimizely, VWO, AB Tasty…
Campaign management
Obviously, Google Ad Grants campaigns can be managed entirely from the Google Ads dashboard.
Another option is to make changes using the official Google Ads Editor. It allows you to make changes faster than the web dashboard.
There are also many external tools, created by other companies, to improve campaign management (some more focused on automating tasks and others more focused on offering a lot of customization options). For example Adzooma, Wordstream, Optmyzr, Opteo, Acquisio…
I do not recommend them in general for Google Ad Grants, but they can be useful for specific cases.
If you want to automate campaigns and invest very little time in them, without resorting to external tools, you can use campaigns with Dynamic Search Ads or Smart Campaigns (I do not recommend the latter, they allow very little personalization and don't give hardly any data to optimize them or reuse "learnings" in other campaigns).
If we want to perform very specific actions in an automated way, we can use automated rules (to make simple changes or receive alerts) or scripts (for more complex tasks). There are dozens of scripts published by Google itself and by different experts. Some scripts are a bit complex to use and are not essential to achieve good results, so they are recommended mainly for advanced users or very complex accounts where they could save a lot of time.
Analytics
To achieve the best possible results, we need to analyze the current results and detect where are the opportunities for improvement.
The reports offered by Google Ads are quite useful (including the Insights and Recommendations sections) and they also make it easy to make the appropriate changes.
But for certain analyses it is better to resort to other tools:
---
If I have left out any tools that you find useful, please let me know.
If you want to achieve the best results without having to invest time & money in a lot of different tools, you can hire a Google Ad Grants expert. Check my services and ask me any questions. ????????