How to reactivate your Google Ad Grants account

The solution for suspended and deactivated accounts
Learn the steps to reactivate it and make sure it will not happen again
STEP 1: Check what is the reason for the suspension
1) Check the email notification
Check carefully the email that Google Ads sent you notifying the suspension of your account.
It should include the reason for the deactivation, although sometimes it is a little generic and it's not straightforward to know what it refers to exactly.
If it's not clear what the problem is or you want to make sure that you are not also violating other requierements, we recommend you consult the Ad Grants Policy Compliance Guide.
2) Call Google support (if you need it)
If you still don't know exactly what the problem is or how to fix it, you can call Google Ads support.
You can check the phone number and learn your "customer ID" (they will probably ask you for that ID on the call) by clicking on the "?" from the top menu.

Google Ads support do not always give useful answers, but if you are lucky they will even log into your account and explain the specific changes you should make.
It can help if you explain that you have done your "homework" (the steps explained above), but you are still not sure of how to solve the problem.
You can also contact by form, but for this it's usually better and faster to make a call.
STEP 2: Fix account issues
The changes to be made will depend on the reason why the account has been suspended:
A) If you do not meet the minimum of keywords, ad groups or extensions
Simply add more until you reach the minimum quantity. You must have at least:
2 ad groups per enabled campaign
2 text ads per enabled ad group
2 active site links
B) If you have keywords with a Quality Score of 1 or 2
Check the keyword report (including all campaigns), click on the filter, search for quality level and filter all keywords with less than 3.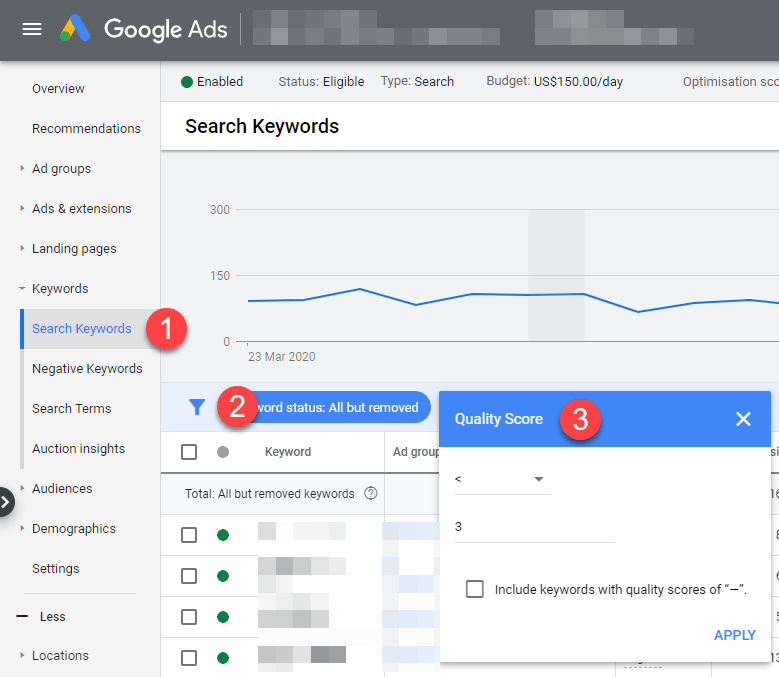 You should pause or delete all the words that appear there.
C) If you are using keywords that are not allowed
Single-word keywords are generally not allowed, with a few exceptions.
You also can't use words that don't fit your organization's mission or are too generic (Google explains it in more detail here, although it's a bit subjective).
Sometimes it's hard to tell which words are too commercial or generic for them. If you have questions, we recommend calling Google support to check if they can explain that.
If they don't say what specific words are not allowed, we recommend you to err on the side of caution and deactivate all those that you have doubts (especially if it's not the first time that the account is suspended).
D) If you have not configured locations correctly
Your campaigns should be directed only to the areas or countries where your target audience is.
There is no limit to the number of areas you can activate on your campaigns.
Google usually only suspends accounts for this reason if the organization is clearly "abusing" or has misconfigured the campaigns and is giving a bad experience to users in certain areas.
The quickest way to check the location configuration of all your campaigns is in the "Settings" section and look at the "Location" column: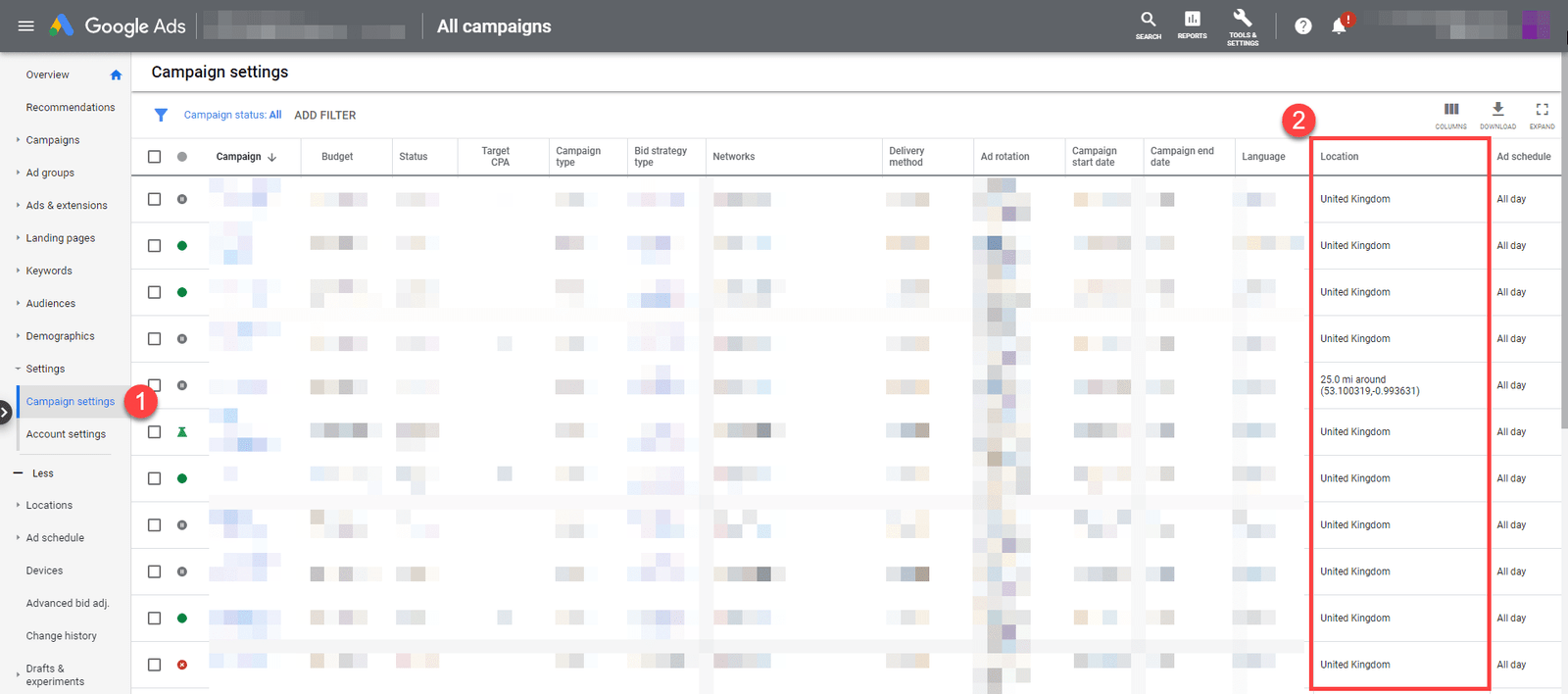 E) If you have not configured conversion tracking correctly
It's mandatory if you use smart bidding or have created your account after January 1, 2018.
Your account should have at least 1 active conversion goal (goals with 0 conversions are not valid).
You can check the conversions you have configured in the top menu: "TOOLS AND CONFIGURATION"> "MEASUREMENT"> "Conversions".

F) If the average CTR of your account is below 5%
It's the most challenging requirement. The other requirements can be met with quick and easy changes, but increasing the CTR can require profound changes and affect the results of your campaigns.
Log into your account and see what is the average CTR for the last 60 days (Google considers the last 2 months for this CTR calculation).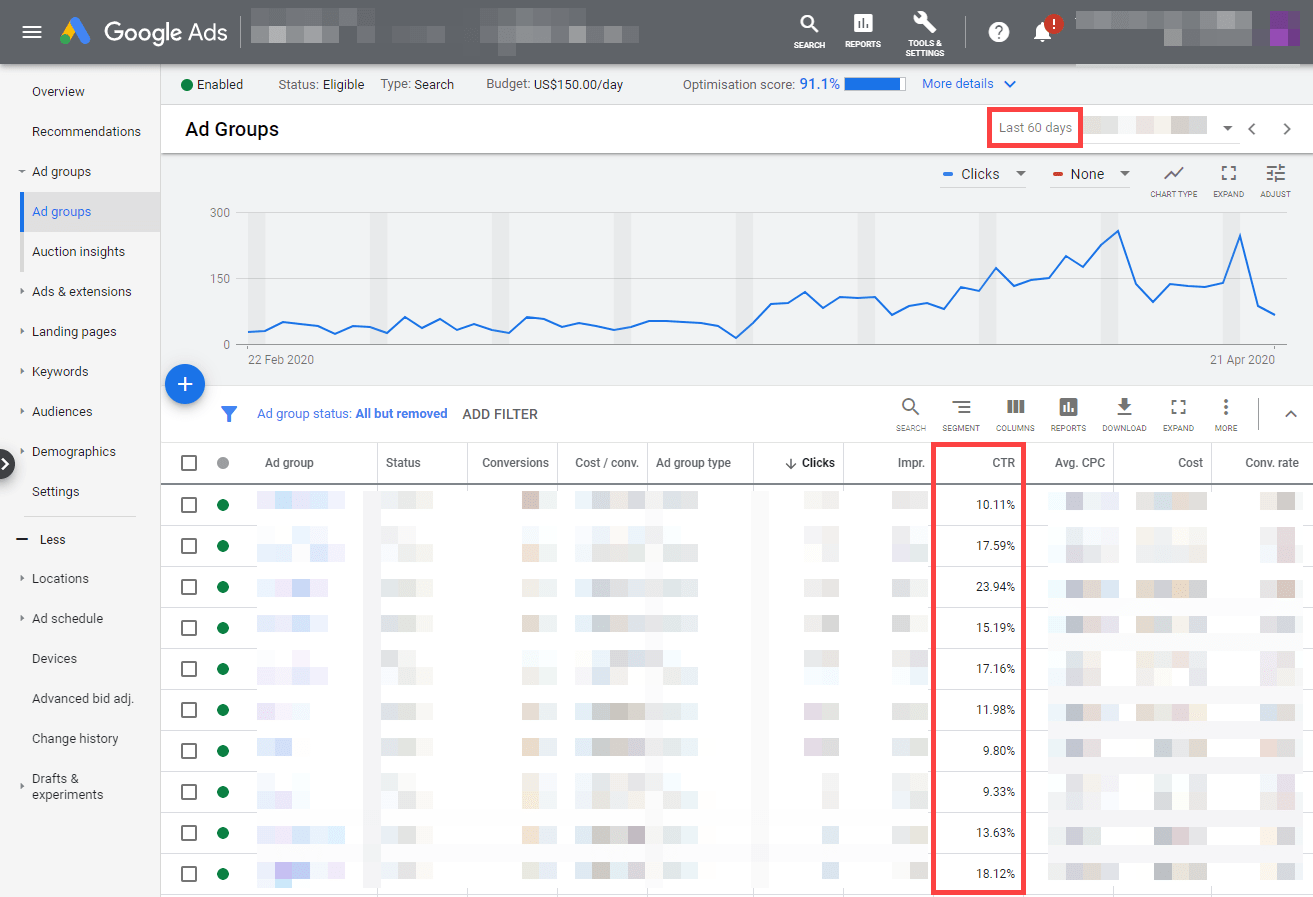 The quickest solution is to disable all ad groups that have CTR below 5%. And it may not be a bad solution if you have enough groups that are above that percentage.
You can also choose a more precise solution, but it takes more time: Pause specific keywords that have a low CTR (instead of entire ad groups) and check how the average CTR of the account is doing.
After the changes, you should check that everything that is still active in your account has more than 5% of CTR on average (apply filters to the report so it doesn't show paused or deleted elements).
STEP 3: Request reactivation of your account
You must fill out this form to send the reactivation request to Google.
In the "Your message (optional)" section, we recommend that you explain what changes you have made to solve the problem and meet the program's requirements.
You can even add a file, for example a screenshot. It can help you show the changes made or explain something, although it's not usually necessary. Google staff have access to your account and can directly verify what they deem appropriate.
Typically you will receive an email response within 10 days (15 at most).
If this period passes without a reply, we recommend you call Google Ads support to check the status of your reactivation request.
STEP 4: Take steps to avoid future problems
You should do everything possible to avoid the headache of asking for reactivation and especially not having active ads for a few weeks.
Also note that if you repeatedly fail to comply with the program requirements, Google can permanently cancel your account and your organization will lose its budget of $10,000 per month.
1) Activate all notifications
Make sure you have all email notifications turned on in Google Ads settings and that the email address assigned to the account is an inbox that you check frequently.
Among other things, Google will notify you of problems in your account. They will notify you of problems that can lead to a suspension and improvement recommendations.
2) Configure automatic rules
Having a rule that automatically disables keywords that have a Quality Score below 3 is almost essential for any Google Grants account.
You can also consider using other rules, such as pausing ads or keywords whose CTR is less than 5%.
You can check the official guides on setting automatic rules and common examples.
3) Do periodic reviews
We recommend setting up a recurring event on your calendar to log in to your Google Ads account at least every 2 weeks and make some changes (Google can deactivate accounts that are not being actively managed).
You don't need to make big changes every time you log in, they can be small details like adding or pausing a few keywords.
We also recommend that you review the recommendations section within your Google Ads account and the external dashboard "Google Ad Grants Review Dashboard".
4) Hire an expert if you do not have the knowledge or time to manage your account properly
Google Ads is a complex platform with dozens of options and frequent changes. It is easy to launch a campaign but complex to harness its full potential.
Google Grants adds extra difficulty with its additional requirements (which have also changed over the years).
If you do not have enough knowledge about Google Ads and Google Grants + a minimum of 5 hours per month for account management and optimization, we recommend hiring an expert in Google Grants.
Investing properly that $10,000/month can make a big difference in the organization's objectives (multiply donations, volunteers, social impact...), especially for small nonprofits.
If you are interested in receiving help, contact us and we will send you a customized proposal.
What if I have questions or other problems?
As we have mentioned above, you can contact Google's own support.
You can also contact us. We help you in the reactivation process, free and without obligation.
If you want, then we can take care of managing and improving your ad campaigns. We take care of Google Ad Account, so you can avoid future problems and get the best possible results.
Want help to reactivate your account?
We advise you throughout the process. Avoid mistakes and get your account reactivated as soon as possible. This service is free and without obligation.