What is Google Ad Grants and how to get it?

Google Ad Grants offers $10,000 a month to promote your nonprofit for free. Check how to request it and to avoid frequent errors.
Do you already have Google Ad Grants? Check our guide to improve results
What is Google Ad Grants?
It is a Google program that gives each nonprofit US$10,000 a month to advertise for free on their search engine. That's 120,000 dollars for advertising each year, a big amount that can be used to achieve great goals.
It allows you to advertise in Google search results, appearing above normal results: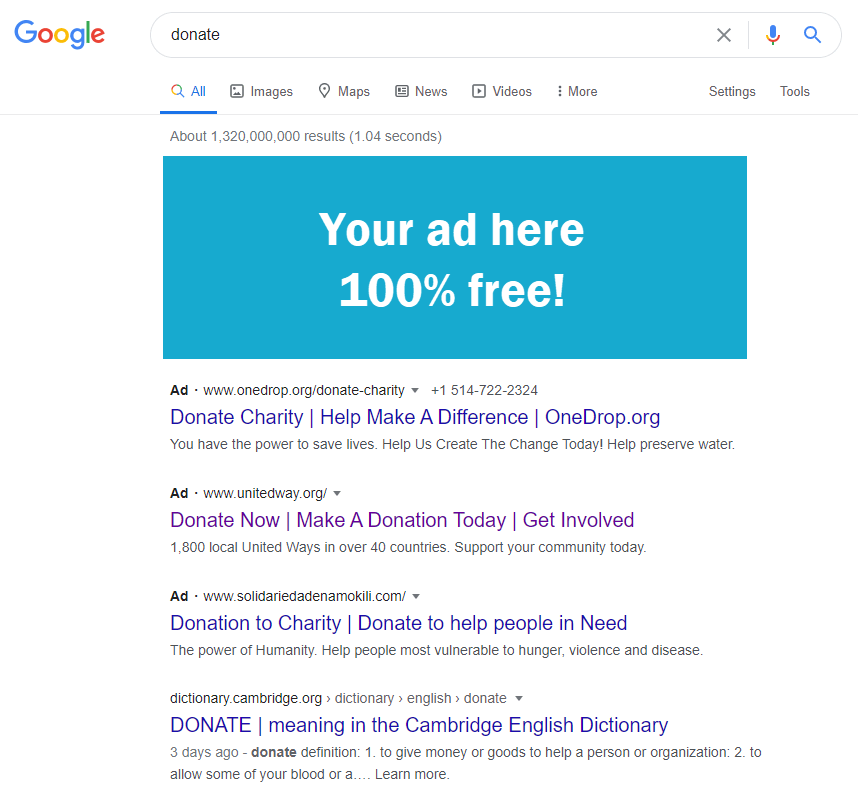 Each organization decides the goals of their campaigns, the searches in which they want to show their ads and the pages they want to show of their website (with some "small" limitations).
It's a program that has been running for many years, but surprisingly many nonprofits still do not know it. We encourage you to share this guide with other nonprofits (using Twitter, Facebook, Linkedin, forums, email or the medium you prefer).
Having $120,000/year for promotion is a big opportunity to increase the social impact of any nonprofits. All nonprofits should be using Google Ad Grants, it's one of the best free "tools" available for them.
It's easy to apply. You just have to fill out a few simple forms. There are no limited places or anything like that. If your organization meets the requirements explained below, it's almost sure that you will be awarded the $10,000 per month.
If you have questions about Google Ad Grants or have any problem in the application process, you can contact us and we will help you.
What is Google Ad Grants for?
There are millions of different searches in which your organization can advertise. There are millions of possibilities to target users who are looking for different things.
Therefore, your Google Grants budget can be used to achieve practically any goal that your organization has. For example:
Get more donations
Get more attendees to your events
Recruit volunteers
Increase online sales (products, services, event tickets...)
Capture emails from potential collaborators or followers on social networks
Collect signatures for petitions or popular initiatives
Reach beneficiaries or clients of the organization's programs
Attract sponsors or corporate partners
Promote specific programs or campaigns
Expand the organization to new areas or countries
Why is it important to get the most out of your Google Ad Grants account?
Many nonprofits make the same mistake: Since Google Ad Grants is "free money" and no one complains if that money is not used well, they do not spend enough time optimizing their account and they waste a large part of their budget ($10,000 per month).
Every month that you don't take full advantage of Google Grants, it's almost like you're rejecting a $10,000 donation.
Can your organization afford to turn down $ 120,000 each year (or invest it poorly)?
Additionally, ad campaigns have a multiplier potential. If you spend it well, those $120,000 in free advertising can be turned into donations, volunteers, and other helpful resources worth over $ 120,000.
The average profitability that nonprofits get from search engine ads is 2.75. In other words, for every dollar that nonprofits invest in Google, they get $2.75 on average.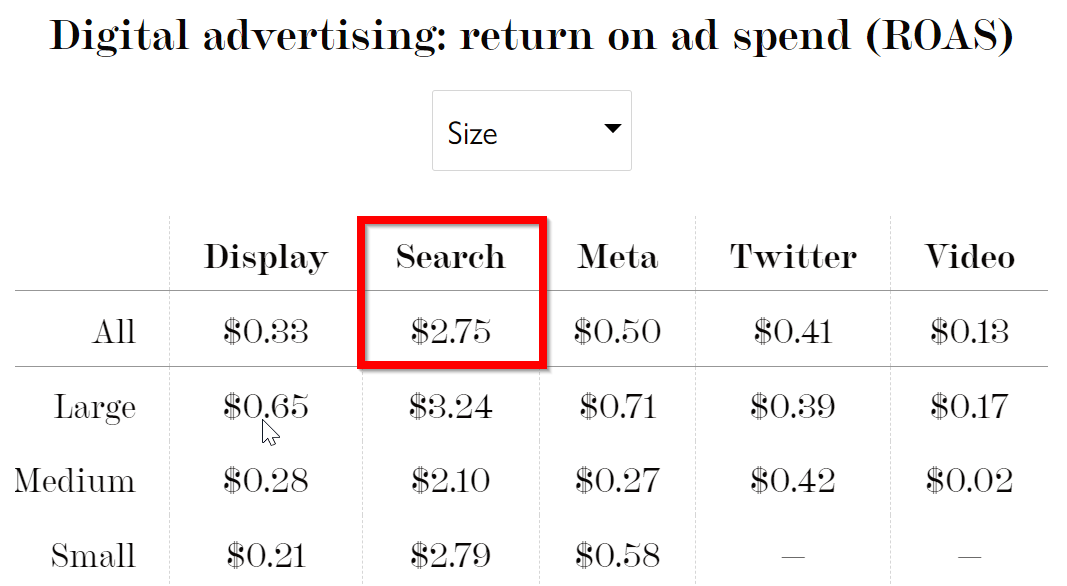 Source: M + R Benchmark 2023
If you manage to take advantage of the entire budget of Google Grants ($120,000 per year) with the average ROAS of the sector (2.75), your organization could receive $330,000 per year thanks to Google Grants.
And all this without having to invest anything or take risks, because the $10,000 per month for ads is given by Google without any cost.
Google Grants can be a crucial tool to get enough visibility and resources for your mission, especially if you work for a small or medium nonprofit.
Who can apply for Google Ad Grants?
Any non-profit can apply, with 3 exceptions:
Government organizations
Health-care organizations (e.g., Hospitals)
Educational or academic organizations (e.g., Universities)
Your organization must be based in one of the countries where Google offers the Ad Grants program. Most big countries are included.
The complete and updated list of countries is here. And the specific requirements for each country can be found here.
What are the steps to apply for Google Grants?
You can check the detailed steps in the official Google guide. We summarize them below:
Register your organization in the Google for Nonprofits program through this link.
At the beginning of the process, they will indicate that you have to register with Techsoup or one of their local partners. Once the registration is complete, Techsoup will give you a validation token that you must enter in the registration form in Google for Nonprofits.
Techsoup is an independent entity that will verify that your organization is correctly registered as a non-profit organization.
They will also check that you have a quality website (basically that it describes your charity's mission well, it loads reasonably fast, it's secure and does not contain too many ads).
When receive the confirmation of registration in Google for Nonprofits, open a Google Ads account at this link. Important tips:
You have to open the Google Ads account using the same Google user account that you used for Google for Nonprofits.
You have to select "American dollars" as the currency (not the currency of your country).
You have to ignore the notices that ask you to enter payment details (if you save any payment method, that account can no longer be used for Google Grants).
Send the pre-qualification survey at this link. Among other things, you will have to indicate the "Customer ID" of the Google Ads account you just opened. Here they explain where to check your Customer ID.
Log in to the Google for Nonprofits website and click on "Activate" the Google Ad Grants program.
When you receive confirmation that Google Ad Grants have been activated, you will be able to enter the account you opened for Google Ads and launch your ad campaigns.
How long does the approval process take?
The process may seem a bit complex, but it's just filling out 4 forms and waiting for them to do the appropriate checks.
The forms are simple. You don't have to submit detailed proposals, financial data or anything complex to prepare. It's much simpler than most grants. Simply fill in some basic information about your organization and you are done.
Unless something weird happens, it should take you less than 2 hours of work in total. You will get $10,000 per month for Google Ads, so it is very little work to get $120,000 every year.
The entire process usually takes around 1 month, from the time you fill out the first form until you have your Google Grants account activated and ready to launch your ads.
The approximate waiting times for each step are:
Techsoup approval: Typically 2-14 business days. Sometimes up to 30 days, especially if there is something wrong with your request or if they have to ask for additional information.
Google for Nonprofits account approval: Usually 1 or 2 days.
Activation of Google Ad Grants: Between 2 and 10 working days.
What if I have questions or a problem?
You have the official Google Grants guide, with plenty of information. You can contact Google's support if something goes wrong.
You can also contact us. We help you in the application process, free and without any obligation.
If you want, when you have your account approved we can take care of configuring and optimizing your ad campaigns, to save you time and get the best possible results for your organization.
If you found this guide interesting, share it with other nonprofits using email, forums, Twitter, Facebook,  Linkedin...
Free help to apply for Google Ad Grants
We help you throughout the process. Avoid possible errors and have your account approved as soon as possible.